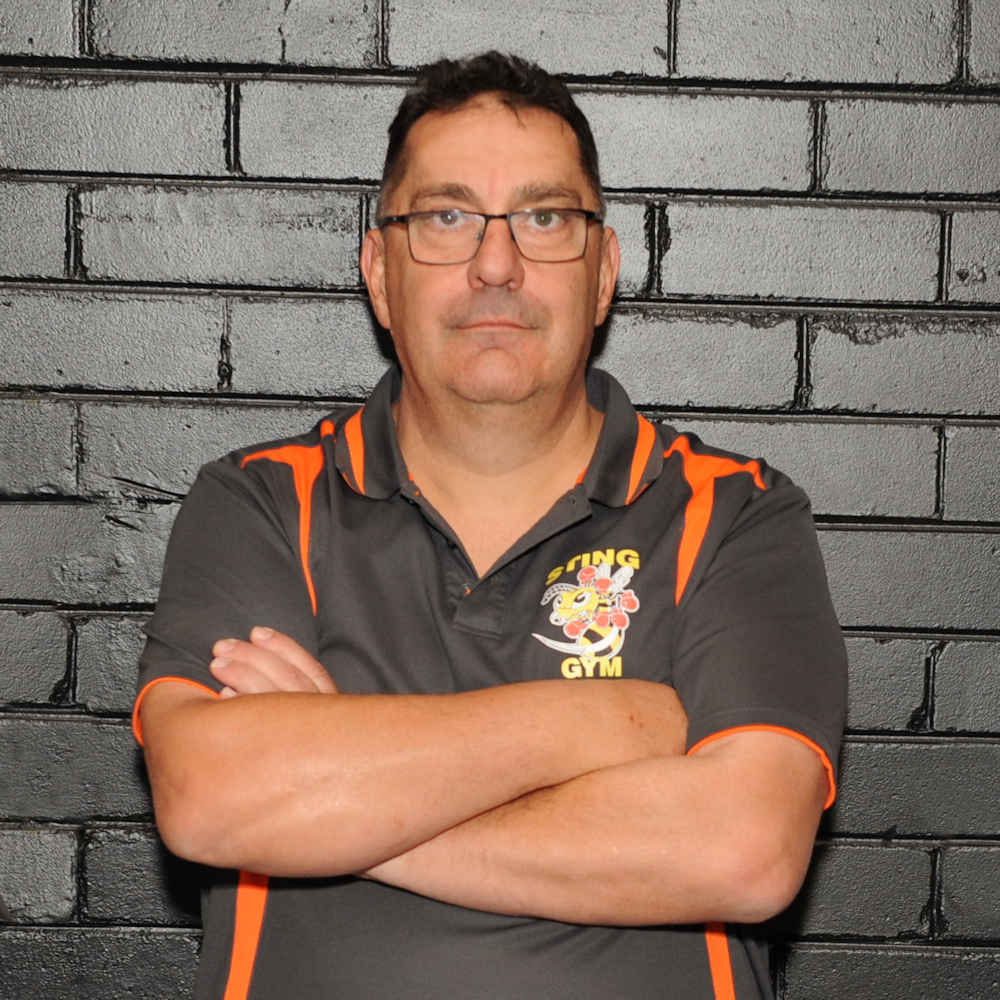 Michael started in martial arts in the mid 80's where he developed his style after being introduced to Kickboxing by Jemal Hasan.  In the early 90's Michael started coaching Kickboxing under Les Anyos' – Shin Bu Kai – International Karate.  Michael coached Kickboxing and Muay Thai for Les until Les relocated to Queensland, which led to Michael opening his first gym in Richmond and soon after Noble Park.  This is where Sting Gym was born.
Michael has trained many fighters in his 30+ years as a Professional Coach – training 3 World Champions, over 30 Commonwealth Champions and South Pacific Champions and over 80 Australian and State Champions, in Kickboxing, Muay Thai, K-1 and Boxing.
EXPERIENCE
Licensed Professional Kickboxing Trainer (Combat Sports Board of Victoria)
Black Belt Kickboxing Shim Bu Kai
Licensed Professional Boxing Trainer (Combat Sports Board of Victoria)
Licensed Amateur Boxing Coach (Victorian Amateur Boxing Association)
Licensed Amateur Boxing Coach (Victorian Amateur Boxing League)
Experienced Kickboxing Judge, Referee, Matchmaker & Promoter (Combat Sports Board of Victoria)
Certificate 3 in Fitness
Certificate 4 in Fitness
First Aid level 3
Ryan was first introduced to the sport in early 2000 when he started training with Michael Karitsas at Melbourne Fight centre in Chelsea.  Karitsas sold the fight centre to long-time coach and good friend Michael Vukovic in 2003.
Ryan started coaching beginners and story tellers late in 2003 under the supervision of Michael Vukovic at Sting Gym.  He quickly developed a passion for sharing knowledge, good banter and coming up with analogies fit for kindergarten children and professional boxers a like.
EXPERIENCE
Certificate 3 in fitness
Certificate IV in fitness
Australian Professional Boxing and Combat Trainer
Black Belt Instructor
Certified Punch fit Trainer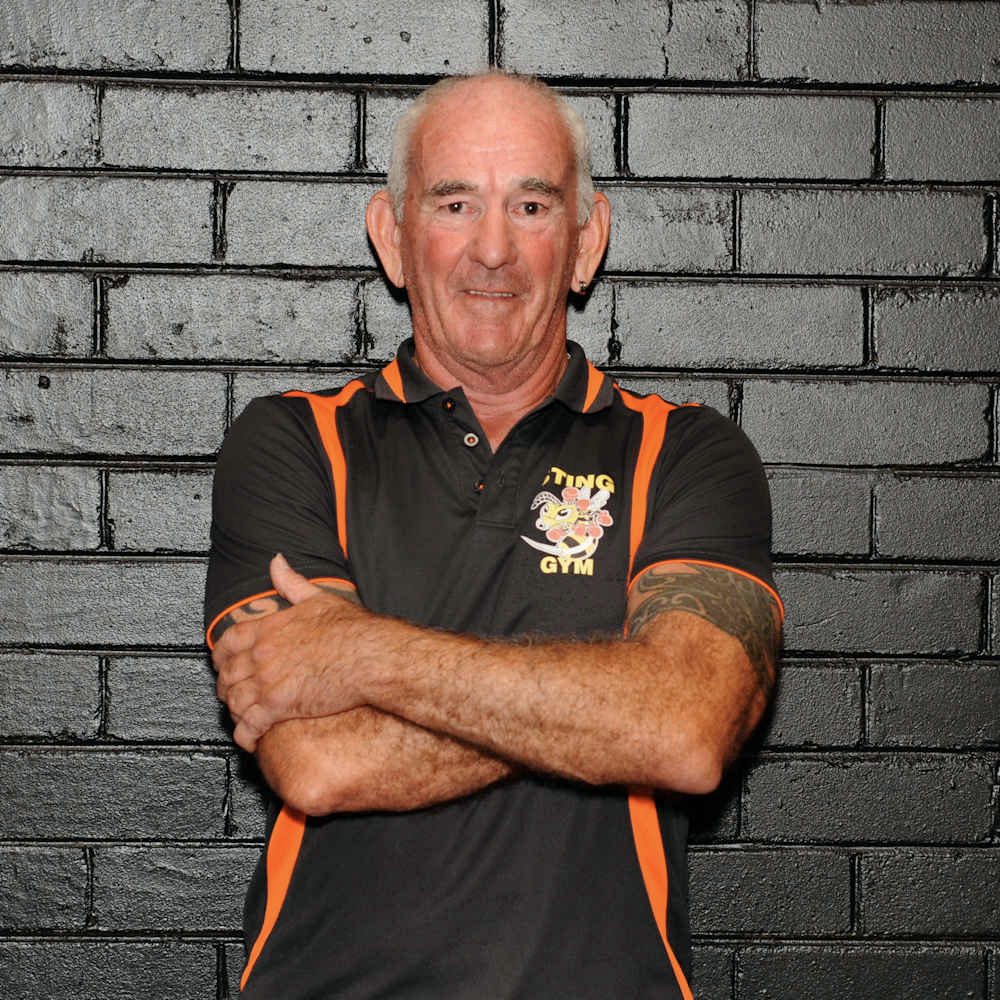 Bryce has been involved in combat sports for over 50 years, both as a competitor and fight trainer.  He has studied Judo, Unarmed Combat, Boxing, Tae Kwon Do (5th degree), Shorin Ryu (3rd Dan), Brazilian Karate (3rd Dan).
Bryce is a qualified personal trainer both in fitness and weight training, board certified Martial Arts instructor, fight trainer and referee.  He has trained and fought in the USA, Canada, England, Japan and Thailand.
Bryce's fighters include:
Diamond" Dale Westerman
Louie "The ICE" Iosifidis
Mark "Hammer" Castagnini
Nick "Special K" Kara
Paul "The Dragon" Le
"Iron" Mike Cope
Joel "Reaper" Octigan
Paul Robinson
MMA and Wrestling Coach
Australia Professional Boxing and Combat Trainer.
Military First-Class Combat Sambo Sportsman.
Military Amateur record: 128-5.
9 Times National Open Wrestling Champion with 18 Years' experience as a "Greco Roman and Freestyle" wrestler and coach.
Accredited Level 1 Strength & Conditioning Coach.
6 Years Boxing Training.
Steve has trained as a Professional Fighter and coached for over 15 years.  Steve brings extensive experience in most combat sports including Boxing, Kickboxing K-1, Muay Thai and Brazilian Jujitsu.
Certificate 3 in fitness
Certificate IV in fitness
Personal trainer.
Registered VAMAA trainer/coach.
17 Professional kickboxing fights
Victorian Champion Kickboxing
Australian Champion K-1
South Pacific Kickboxing
IKBF World Champion Kickboxing
Urich heads and coaches the Kickboxing, Muay Thai and Strength and conditioning programmes at our Cranbourne facility.
His hobbies include weekend boot camps (keep an eye out for him at Lysterfield lakes and Cape Shank light house) and competing on the amateur and professional kickboxing circuit in Victoria.
JP started his boxing career in 2003 his accomplishments include:
6 × Victorian champion
2005 Bronze medallist
2006/2007 National champion
2009/2010 Bronze medallist
18 years boxing experience
At the end of his amateur career John spent 4 years at our flagship centre in Dandenong mentoring amateur and pro fighters before opening our Cranbourne facility.
Rumour has it that JP is terrified of cameras, hence no profile pic.
Ange is Sting Gym's office manager at Dandenong and looks after all customer and membership enquiries.
Qualifications Certificate 3 & 4 Fitness
Working with Children Check
First Aid Certificate Advanced